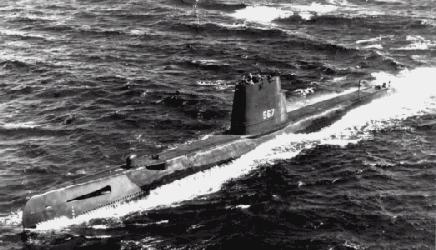 USS GUDGEON (SS-567)
---
dp. 2050 tons (surf.), 2700 tons (subm.); l. 267.9'; b. 27'3";
s. 15.5k (surf.), 18.3k (subm.); td. 700'; a. 6-21" tt fwd., 2-21" tt aft.;
cpl. 8 officers - 75 enlisted men; cl. "TANG"
Keel laid down by Portsmouth Naval Shipyard, Kittery, ME, 20MAY50;
Launched: 11JUN52; Sponsored by Mrs. Robert A. Bonin;
Commissioned: 21NOV52 with Cdr Robert M. Carroll in command;
Decommissioned: 31JAN83
Struck from the Navy List 6AUG87;
Sold to Turkey to serve asHizir Reis(S-342) 6 AUG87 where she remains in service.
---
Return to Submarine Page